THE WRITERS' LAB
Community Project
Writers' Lab goes to the Community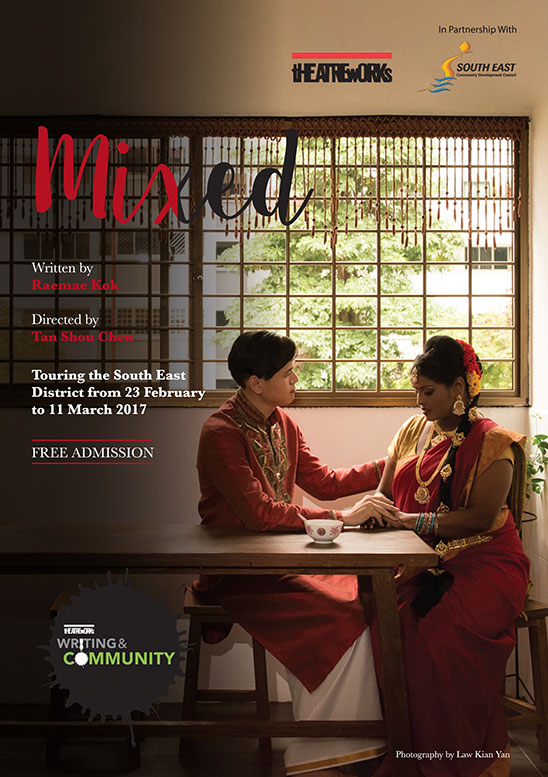 Mixed
Performance Tour to the South East District from 23 Feb to 11 Mar 2017
Mixed is a winning play of the 24-Hour Playwriting Competition 2016 (Youth Category) and is presented as part of TheatreWorks' Writers' Laboratory Writing & Community Programme in partnership with the South East Community Development Council.
Synopsis
Growing up Chindian in Singapore has not been easy for Anika Lee. Her parents, Cassandra and Lee, have fought hard their whole life to protect their kids from racial tensions both in their family and out. At 21, Anika has cultivated a fire in her that allows her to navigate the difficulties of being mixed. Now a teacher-in-training, she is whole, and ready to fight for what she believes in. She even has her eye on a guy at the job she loves…
Mixed scrutinizes a racial divide that is supposedly cracked, bringing to light fragments that still have the power to cut. Mixed is a play about loss, it's also about love – it's about falling. And it's about getting back up.
The Performance Tour of Mixed is performed at three different locations in the South East District, each offering audiences a new experience of the play, from February to March 2017.
FREE ADMISSION
Performed in English
Approximately 45 minutes
There will be a post-show dialogue after each performance
To register, please go to http://mixed2017.eventbrite.sg
Written by Raemae Kok
Directed by Tan Shou Chen
Performed by Sherilyn Tan, Grace Kalaiselvi, Gabriele Goh Koon Hui, Joel Low, and Sneha Sudha Sanjay.
Lighting Design by Stella Cheung
Set Design by Grace Lin
Marine Parade Community Club, Theatrette
23 Feb 2017, Thu, 8pm
24 Feb 2017, Fri, 8pm
25 Feb 2017, Sat, 12pm & 3pm
The Eurasian Community House, Multi-Purpose Hall
2 Mar 2017, Thu, 8pm
3 Mar 2017, Fri, 8pm
Mountbatten Community Club, Performance Centre
9 Mar 2017, Thu, 8pm
10 Mar 2017, Fri, 8pm
11 Mar 2017, Sat, 3pm & 8pm
Visit our Facebook Page at www.facebook.com/TheatreWorksSg and our blog at https://writingandcommunity2017.wordpress.com/ to find out more.
About the TheatreWorks Writers' Lab Writing & Community Programme
The presentation of Mixed is part of TheatreWorks' Writing & Community Programme in partnership with the South East Community Development Council to nurture and develop new playwrights from the community. Writing & Community is a holistic, unique writing programme that serves the community through harnessing the talents and creativity in the community.
Writing & Community is a strand of TheatreWorks Engagement to encourage audience appreciation of the Arts, and deepen the knowledge of its patrons as well as stakeholders.
Community Partner
Engagement Programme Sponsor
Venue Partner
With Support from