THE WRITERS' LAB
Community Project
Writers' Lab goes to the Community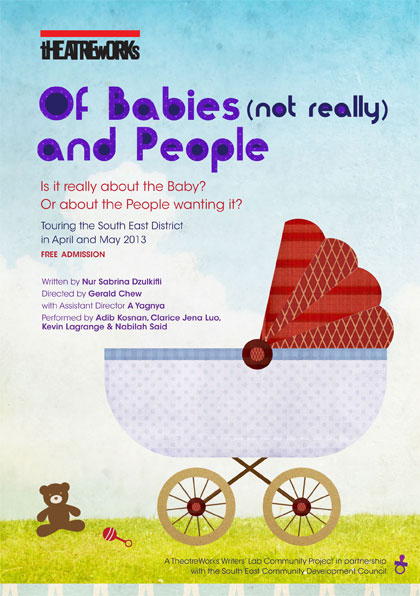 OF BABIES (NOT REALLY) AND PEOPLE
Touring the South East District from April 2013
FREE ADMISSION
A TheatreWorks Writers' Lab Community Project in partnership with the South East Community Development Council
Written by Nur Sabrina Bte Dzulkifli
Directed by Gerald Chew
with Assistant Director A Yagnya
Performed by Adib Kosnan, Clarice Jena Luo, Nabilah Said & Kevin Lagrange
Synopsis
Maslindah and Jamal are married.
They laugh, they cry, they fight, and they're in love.
They are missing a child.
Jenny is the best friend to the couple.
She is satisfactorily unhappy.
She is missing a little something in life.
She decides to have a baby.
Is it really about the BABY? Or about the PEOPLE wanting it?
Experience the play's entertaining take on the complexities and universal truths about life, love and surrogacy in relation to race and religion.
TheatreWorks is proud to present Of Babies (not really) and People, written by Nur Sabrina Bte Dzukifli, winner of 24-Hour Playwriting Competition 2012 (Youth Category), directed by Gerald Chew with assistant director, A Yagnya.
The community project is a developmental initiative by both TheatreWorks and South East Community Development Council with two objectives.
Firstly, it promotes new work, i.e. the winners of the TheatreWorks annual 24 hour Playwriting Competition - where one of the winning playwrights is rewarded with a professionally produced performance of their work, to be toured to the community at large.
The second is to bring issue-based theatre to a community of audiences, therefore encourage the interest in theatre and to allow for self-reflection on issues that will resonate with them.
Of Babies (not really) and People is an intriguing offering by a talented 16-year-old playwright on universal human issues: friendship, marriage, parenthood and religion.
This production enhances the play's entertaining take on the complexities and universal truths about life, love and parenthood; and positions the play in way that allows intimate engagement of the community audience with the story, and the choices, challenges and triumphs that the characters experience. The production is entertaining, yet potentially enlightening and possibly educating.
Since 2008, TheatreWorks has forged a dynamic partnership with South East CDC in organising its Writers' Lab programmes for the community's benefit. The 24-Hour Playwriting Competition takes place each year at unconventional sites and sees the participation of aspiring writers from all walks of life, young and senior. Of Babies (not really) and People marks the third edition of the Writers' Lab Community Project in showcasing new writing reflecting the heart and soul of Singaporeans, through a whirlwind tour of public spaces within the South East District! The other two works were the very popular "SERUNDING" (2011/2012) and "SAYING GRACE" (2012)
The Writers' Lab is the longest-running developmental programme for playwrights in Singapore. It has nurtured generations of illustrious writers and presented many seminal Singapore plays since its inception in 1990.
Event Details
FREE ADMISSION
Performed in English with some Bahasa Melayu
Approximately 45 minutes
Post-show discussion after each performance
Mountbatten Community Club, Performance Centre
12 Apr 2013, Fri, 8pm and 13 Apr 2013, Sat, 3pm
35 Jalan Satu
MRT: Dakota
Siglap South Community Centre, Multi Purpose Hall
26 Apr 2013, Fri, 8pm 6 Palm Road
Buses: 12, 13, 14, 16
Serangon Public Library, Programme Zone
4 May 2013, Sat, 3pm and 5 May 2013, Sun, 3pm
23 Serangoon Central, #04-82/83, NEX
MRT: Serangon
Marine Parade Community Club, Theatrette
11 May 2013, Sat, 3pm
278 Marine Parade Road
Buses: 13, 15, 16, 31, 36, 43, 48, 55, 76, 135, 196, 197, 853, 966
Geylang East Public Library, Merpati hall
18 May 2013, Sat, 3pm and 19 May 2013, Sun, 3pm
50 Geylang East Ave 1
MRT: Aljunied
Gardens by the Bay, Supertree Grove
25 May 2013, Sat, 6.30pm
18 Marina Gardens Drive
MRT: Bayfront
To reserve seats or for enquiries, please call TheatreWorks at 6737-7213 or email tworks@singnet.com.sg
For more information, please proceed to our blog at http://ofbabiestour2013.wordpress.com
In Partnership With

With Support From

Community Engagement Sponsored By

Kuo Pao Kun Foundation


Venue Partners