THE WRITERS' LAB
TheatreWorks presents,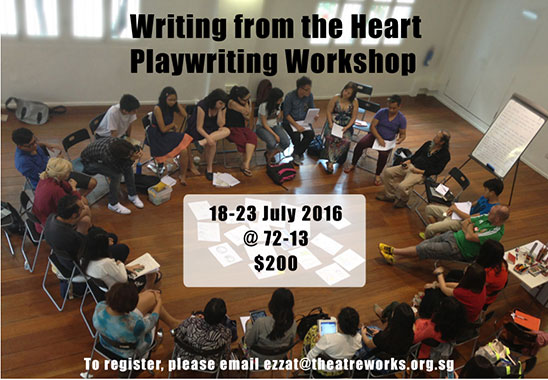 Writing from The Heart

18 to 23 July 2016
@72-13 Mohamed Sultan Road, Singapore 239007

A playwriting workshop by Tony Perez
After the successful edition of Writing from the Heart workshops in 2014 and 2015, TheatreWorks is pleased to invite Filipino playwright Tony Perez once again to conduct an interactive playwriting workshop this July 2016 as part of its Writing & Community programme.
This series of workshops aims to:
Unearth and inspire new playwriting enthusiasts from within the community
Share one of the region's best playwright's skills and expertise with the community
Develop new plays through a post-workshop mentorship and dramaturgy programme
Writing from the Heart has previously discovered over 30 new writers and provided them with basic skills in playwriting. Through a series of hands-on exercises, which include drawing, dialogue and interpersonal interaction between participants, the mentor and within themselves, these exercises draw out the writers' potential from within and these discoveries became important material and inspiration for playwriting.
Emerging Singaporean playwright Helmi Yusof, first penned his new play My Mother Buys Condoms at the workshop in 2014. It was then further developed over a period of one year through a series of dramaturgical clinics under the guidance of Perez, before being presented to the public at a dramatized reading in July 2015. Since then, it has been picked up by local theatre company Wild Rice to be staged professionally as a full production at the Singapore Theatre Festival in July 2016. Helmi Yusof is one of the success stories that TheatreWorks is proud to have nurtured and supported through its Writing & Community programme.
Quotes From Previous Participants:
"… Everyday there was a self-discovery – from our favourite character in a fairytale to our imbalanced chakras, which we balanced through the use of a pendulum, to the Eros and Thanatos concept which improves the inner voice in writing …"
- Eliete Vivino, participant of Writing from the Heart 2014.
"… The workshop exceeded my expectations. It gave me fresh perspectives on writing and that writing should come from the heart. I loved how interactive the workshop was. I left the workshop inspired by all the participants and Tony …"
- Serene Tan, participant of Writing from the Heart 2014
"… Tony Perez is a wonderful, thoroughly unconventional and intuitive teacher. He talks about everything from chakra points and meditation to Freud and Jung, and you're asked to try them out in class, so you have to have a very, very open mind."
- Helmi Yusof, participant of Writing from the Heart 2015.
Information:
18 July to 23 July 2016 (7 sessions)
7pm – 10pm (Weekdays) & 10am – 5pm (Saturday)
Venue: 72-13 Mohamed Sultan Road, Singapore 239007
Registration Fee: $200
To register, interested participants can email Ezzat at ezzat@theatreworks.org.sg, or
call 6737-7213
Open to participants aged 17 years and above
Session Details:
Session 1, Introduction to Writing from the Heart
18 July 2016 (Monday), 7 – 10pm
Session 2, Strengthen one's power of observation & creative visualization
19 July 2016 (Tuesday), 7pm – 10pm
Session 3, Creating characters & dialogue
20 July 2016 (Wednesday), 7pm – 10pm
Session 4, Working with a premise; Creating a dramatic plot
21 July 2016 (Thursday), 7pm – 10pm
Session 5, Conceptualise & Visualise the theatre space
22 July 2016 (Friday), 7pm – 10pm
Session 6, Deconstruct, structure & restructure and shaping the Narrative
23 July (Saturday), 10am – 1pm
Session 7, Delivering Creative Group Dynamics
23 July (Saturday), 2pm – 5pm
About Tony Perez: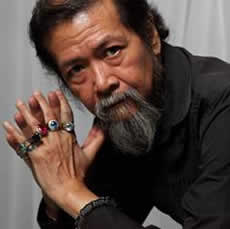 Tony Perez is a Filipino playwright, novelist, and visual artist with an M.A. degree in Religious Studies, an M.A. candidacy in Clinical Psychology. He has authored two major, full-length trilogies of plays in Tagalog, some of which have been translated into English and Polish. His full-length play "Trip to The South" were performed in New York and in Singapore; another full-length play, "On The North Diversion Road," was performed in Melbourne and in Singapore. After having more than 40 books published in the Philippines, he is devoting the rest of his life to posting his new and forthcoming books in cyberspace. They can be accessed through his main blog site,
http://www.tonyperezphilippines.blogspot.com.