Flying Circus Project 2007 : Travelogue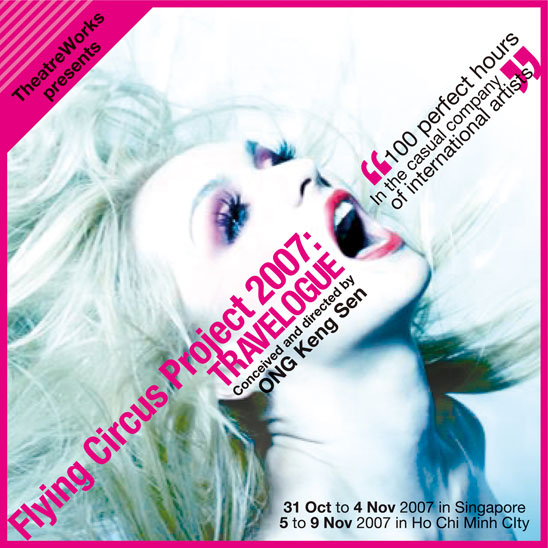 TheatreWorks presents
Flying Circus Project 2007 : Travelogue
"100 Perfect Hours in the casual company of international artists"
Conceived & Directed by Ong Keng Sen

2007 marks the 6th edition of the Flying Circus Project or FCP. This year's programme, TRAVELOGUE, begins in Singapore and then travels to Ho Chi Minh City. The themes of this TRAVELOGUE are memories/local wisdoms/future-ness. The FCP 2007 brings together artists from different cultures, disciplines and politics.
Established in 1994 by Ong Keng Sen, the FCP is a major programme exploring creative expression in Asia NOW! This transcultural, inter-disciplinary, long-term research and development programme consists of performances, screenings, conversations, laboratories, workshops, talks and engagement with local communities – food for thought for the future. The focal points are on individual creative strategies, diversities, cultural negotiation and the process of art practice.
In 2007, for the first time, the artists from Asia, Europe and North America will travel together to two different sites, interacting with the cities, localities and contexts. The Flying Circus Project artists will make presentations with invited guests of each city.
Some Thoughts from Hanoi
The Flying Circus Project (FCP) has matured immensely over the last 12 years. It has always been a gathering of artists interested in investigating our processes. In the larger scheme of our individual artistic trajectories, the FCP can be said to be many small processes which happen intimately, quietly and continue to resonate thereafter. Presently as i am here in Hanoi, accompanying Raqs Media Collective on their FCP Residency through Vietnam, i am struck by their words describing their practice. 'Talking and Listening' for instance is something which completely relates to the FCP practice. How little this is valued by artists and by audiences as we become overwhelmed by preconceived contexts and expectations. The beginning platform of the FCP is to provide a broad enough space that all invited artists of multiple disciplines from urban research to burlesque, individual interests, diverse contexts can participate. The actual tasks together are simple, we share a short intense time together, almost mundane. But hopefully, the communications amongst ourselves become more compassionate and sharper. Converations across boundaries within and without ourselves. Leaving our usual contexts to see again, hear again, experience again, reflect again. Being challenged to leave our artistic contexts to travel, an activity of the everyday, of mere mortals!
Quoting from travel magazines, using taglines like "100 perfect hours" to be in a city; opening up the space to be shared with the audiences who can join us on observerships throughout the time in both cities - "in the casual company of". The travel by the community of artists is also accessible for the audiences to partake. The performance of travel. Open spaces, secret spaces, shared spaces. A shared space of where there is no dumbing down, these are artists working all over the world who have not been seen in Singapore before and whose work i enjoy, appreciate. An occasion like this is also one to ask the question of why we are only seeing Jun Nguyen-Hatsushiba's video, 6 years after it was first premiered in Yokohama? What is the role of the audiences, the independent arts groups to articulate the kind of artistic and social discussion that we would like in our cities? How do we want to inhabit our cities? Conversely is it about making a mark or about leaving traces in the urban noise for those who desire to discover you?

Ong Keng Sen
Artistic Director
Flying Circus Project 2007
Click here to access the FCP07 blog.

Click here to view the FCP07 photos.