Watch the Video Clip
[Contact us for full version]
The Global Soul
- the Buddha project -
Contemporary travellers journeying through urban life, searching for contact, for connection
Conceived & Directed by
Ong Keng Sen
In collaboration with
Charlotte Engelkes, Kang Kwon Soon, Pichet Klunchun,
Sophiatou Kossoko, Toru Yamanaka, Zeng Jing Ping
Designed by
Justin Hill, Scott Zielinkski, Heman Chong
Dramaturged by
Robin Loon
A TheatreWorks Production, commissioned by the Singapore Arts Festival, with support from the House of World Cultures, Berlin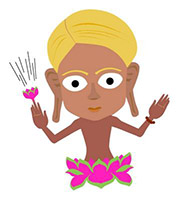 When Gautama Buddha, as a young prince, first saw the pains of the mortal world, he became alienated and strove to understand the spirit and soul beyond the diseased, the dead, the old and the wasted bodies. He flagellated his body by starving himself to a point where his backbone could touch his sternum, where his hair fell in patches whenever he touched them. He then realised that he needed a strong body to gravitate towards the spirit. Sitting under the bodhi tree, Gautama travelled the world in the depths of his imagination.
Perhaps he was the first global soul; perhaps when we travel, when we search for home in our restless world today, sometimes we can touch him…
One of the most influential figures of Asian contemporary theatre, director Ong Keng Sen embarks on his next production following the success of Search:Hamlet in Denmark. Inspired by Gautama Buddha and the musings of travel writer Pico Iyer, The Global Soul is a poignant tale of contemporary travellers in urban landscapes pursuing connection, contact. It embraces stories of Buddha, jet lag, airports, Liyuan opera (a thousand-year-old Chinese operatic form), and the meditative Korean classical court songs within a contemporary soundscape by Toru Yamanaka of Dumb Type. Contemporary mobility and ancient cultural treasures are brought together into this trip with no return ticket.


The Story

The Global Soul is a meditation about travel - time travel, travels in our imagination, travels in our heart, travels in our memory, travels to find the meaning of life, travel for business, travel for leisure. The global soul is about fantasy, about dreaming, about transcending our physical identity, about time flowing - to touch the impossible.
Meet Miss Ping, a traveller longing for lost love.
Meet Millie, a business traveller weaving through the disorientations of a floating life.
Meet The Woman who looks to the ocean to carry her away.
Meet The Frequent Flyer who invents rituals in her history of getaways.
Meet He, a traveller with a mission to uncover the meaning and riddle of life.
Meet The Child for whom every new place is a possibility, an adventure, a game
Meet the melodies that have travelled from a time far away.
Meet the sounds that travel around us, within us, without us
Welcome to their travels.


The Route

In-Transit 2003, House of World Cultures (Preview)
31 May - 1 June 2003
Berlin, Germany
Singapore Arts Festival, Victoria Theatre (World Premiere)
19 - 21 June 2003
Singapore
The travellers continued on to:
Zuercher Theater Spektakel Festival
19 – 21 August 2003
Zurich, Switzerland
International Festival of the Rotterdamse Schouwburg
16 – 17 September 2003
Rotterdam, The Netherlands
IETM Annual Spring Plenary Meeting 2004, Merlin Theatre
24 April 2004
Budapest, Hungary
Singapore Season, London 2005 (Insomnia)
Institute of Contemporary Arts
10 -12 March 2005
London, United Kingdom
Urban Fetishes, TanzQuartier Wien
12 -14 April 2006
Vienna, Austria


The Patrons

Commissioned by

Supported by

LEE FOUNDATION