Off Kilter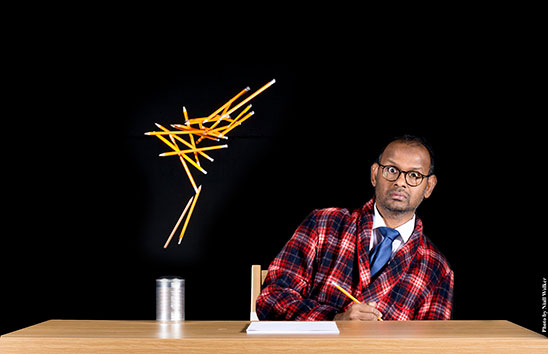 Off Kilter
By Ramesh Meyyappan
A TheatreWorks Co-Production
At work and at home, Joe Kilter has his routine. Some people think Joe is obsessive. Joe would prefer not to be thought of at all. A change in his routine turns his world askew. His life is no longer his own, his house is knocked sideways and he's off his game. Joe Kilter is off-kilter. Feeling increasingly isolated, his life feels impossible until he is forced to exist in darkness.
Off Kilter explores mental well-being, identity, feeling a little bit different from everyone else and not quite being yourself.
Off Kilter is a darkly comedic visual theatre production, incorporating illusions and masterful non-verbal storytelling. Ramesh Meyyappan is a master of physical theatre, award-winning actor, and internationally renowned visual theatre artist. His last major work, Butterfly, played to sold out audiences in the UK, USA, Singapore and at the Edinburgh Fringe.
Performance Details:
11 – 14 October 2017
8pm
72-13
60 minutes
Ticketing Information:
$35 (Standard)
$25 (Concessions for Students, NSF, Persons with Disabilities and Seniors above 62 years)
Tickets available on all SISTIC Platforms: http://www.sistic.com.sg/events/ckilter1017
For more information and latest updates, please check out our engagement blog: https://offkiltersg2017.wordpress.com
Reviews:
"…the sheer artistry Meyyappan brings to his performance – and the power of Joel Nah's supporting score and soundscape… makes Off Kilter a profoundly absorbing and moving show."– The Scotsman, Glasgow
"Ramesh is an artist who seeks out courage, hope and redemptive transformation in his story telling ...one of his (Ramesh Meyyappan) finest performances yet." – The Herald, Glasgow
"Jaw-dropping display of both pure physical comedy and magic… devastating moments of beauty, humour and pathos …this is a timely, deeply heartfelt gem." – The List, Glasgow
"A brilliant physical performer, Meyyappan's control and expressiveness of movement are magnetic, and he emanates a warmth and humour that constantly invites empathy." –Exeunt Magazine
"He clearly prefers to let his art speak for itself, and in this regard, he achieved great success with Off Kilter." – Extraordinary Horizons, Singapore
Co-Produced by:
With Support from:
Special thanks: