Dapunta Hyang: Transmission of Knowledge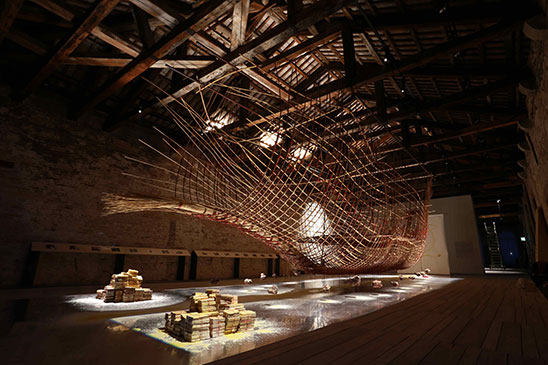 A 17-metre long ship traverses the hall, suspended. As if emerging from the ocean floor, it unloads hundreds of books sealed in beeswax. This is the imagined vessel steered by Dapunta Hyang Sri Jayanasa, the first Malay king of the 7th century Srivijayan Empire. Alongside, portraits of Mak Yong (ancient Malay opera) performers are featured as living witnesses to a history cast in darkness.
Zai Kuning's synthesis of forgotten histories and disappearing traditions is "full of magic, mystery and beauty" (Karim Raslan, South China Morning Post). As the first contemporary visual artwork to ambitiously uncover and interpret ancient regional history, the vessel and its variations have been exhibited in Ota Fine Arts (Singapore, 2014), Institute of Contemporary Arts (ICA) (Singapore, 2014), Esplanade – Theatres on the Bay (Singapore, 2015), Art Basel Hong Kong (2015), Palais de Tokyo (Paris, 2015), and the 57th Venice Biennale (2017).
In the homecoming of this highly acclaimed work, audience members can expect to gain fuller insights into a 20-year long journey that has taken the artist to encounter the orang laut (sea people), Mak Yong performers, and the lost world of the Malay kingdom. A performance with musician Mike Cooper will breathe life to a new film, Chronicles of Amnesia, that captures Zai's extraordinary sojourn. Archaeologist John N. Miksic and art historian T. K. Sabapathy will each give a lecture on the geographical, historical, cultural, and artistic symbols that exist in Dapunta Hyang's world.
TheatreWorks is proud to present this exceptional work that communicates the urgent need to resurface questions on how knowledge has been transmitted, manipulated and directed across time and space to inform us of our present realities.
Opening Hours:
12 April 2018: Opening of Exhibition – 7pm till 10pm
13 April through 13 May 2018: 12pm to 7pm (Closed on Mondays)
Opening hours are extended to 10pm on 19 April, 26 April, 4 May, 5 May 2018
For more information, please visit: https://dapuntahyang2018.wordpress.com
ARTIST PROFILE
Zai Kuning was born in 1964 in Singapore, to a wedding singer family. He spent his childhood in a kampung (village) by the beach, immersed in an environment of traditional and classical Malay music. When he was seven, his family moved into a high-rise apartment. Zai found himself drawn to the kampung, and kept returning to it until it was demolished for redevelopment. The displacement of the individual and the community has thus resided close to his heart, and is explored in his wide-ranging art practices.
As an artist, Zai resists convenient categorical claims. Considered one of the most versatile artists working in the region, Zai has pioneered a practice spanning sculpture, installation, painting and drawing, experimental sound and music, video, film, performance art, poetry, dance and theatre. Zai also values collaboration, and has performed and created works with artists of diverse practices including Kuning Sulaiman, Kuo Pao Kun, Tang Da Wu (Singapore), and Tetsu Saitoh (Japan). Zai's research on orang laut (sea people), the first people of the Riau Archipelago, took flight as a residency project with TheatreWorks (Singapore) in 2001. Since then, his encounters with orang laut and other islanders, including performers of Malay opera mak yong, have become a staple in his work exploring human environments, ethics, religion, culture and history.
Dapunta Hyang: Transmission of Knowledge is a culmination of his 20-year exploration of these themes and geographies. For this edition of the work, Zai journeyed to Mantang Island (Riau Archipelago) and Phatthalung town (Thailand), as well as the once-vibrant trading cities of Palembang and Jambi (Indonesia), to uncover the history, landscape and influence of Dapunta Hyang's Srivijaya empire.
Zai graduated from LASALLE College of the Arts–Royal Melbourne Institute of Technology with a BFA in 1996, majoring in ceramic sculpture and has participated in notable group exhibitions including Who interprets the world? at the 21st Century Museum of Contemporary Art, Kanazawa, Japan (2015); Secret Archipelago at Palais De Tokyo, Paris, France (2015); Not Against Interpretation at the Singapore Art Museum (2013); Welcome to the Jungle: Contemporary Art in Southeast Asia from the Collection of Singapore Art Museum at the Yokohama Museum of Art, Japan (2013); Singapore Biennale 2011: Open House (2011); The 3rd Fukuoka Asian Art Triennial, Fukuoka Asian Art Museum, Japan (2005); and The 2nd Asia Pacific Triennial of Contemporary Art, The Queensland Art Gallery, Brisbane, Australia (1996). His recent solo exhibitions include Ombak Hitam at Ota Fine Arts, Tokyo (2016); Dapunta Hyang: Transmission of Knowledge at the Esplanade, Singapore (2015); IMMIGRANT: The Question of Moral at The Substation Gallery in collaboration with Vichukorn Tangpaiboon (2011), amongst others. His artwork is collected by the Singapore Art Museum, the Fukuoka Asian Art Museum (Japan), M+ (Hong Kong), and Kadist Art Foundation (France, USA).
Presented by


Supported by
TheatreWorks (Singapore) Ltd is supported by the National Arts Council under the Major Company Scheme for the period of 1 April 2016 to 31 March 2019.