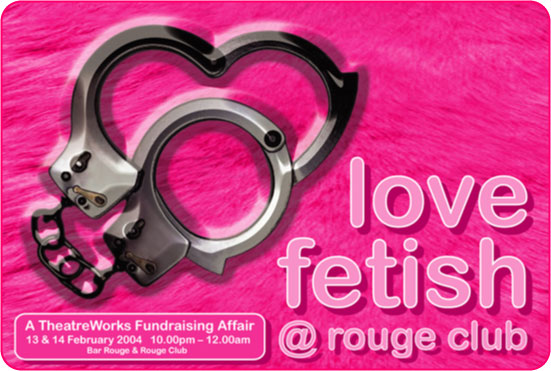 Act out your deepest desires.
Appeal to your senses.
Explore what fascinates you…
For 2 nights only, allow love's bondage to consume you with tantalizing musical items, provocative moves and sensual games! Featuring local personalities Amy Cheng, Corrine Adrienne, Koh Chieng Mun, Lim Yu-beng, Juwanda Hassim, Gani Abdul Karim, Harris Zaidi and many more!
Hosted by whacky celebrities Irene Ang & Najip Ali, you're guranteed a night of cheeky fun, love and indulgence!
Calling all couples and singles alike, come dressed as your ultimate fantasy! Loes all inhibitions and make this Valentine's a mind-blowing affair you'll always remember!
For S$56 per person (inclusive of S$1 SISTIC ticketing charge), you will be able to indulge yourself with 2 hours of free-flow beers & house pours, and pure adrenaline-pumping entertainment!
Plus! The best dresses individual stands to win a 1-night weekend stay in a classic room, with breakfast for two at the Conrad Centennial Singapore!
Call SISTIC HOTLINE: 6348-5555, visit any SISTIC outlet or log on to www.sistic.com.sg for tickets now!
Entry to Love Fetish@Rouge will also gain you access to…
13 February
Remedy Collective. Second Friday Every Month.
DJ Adam feat. Budi on percussions.

The Remedy Collcetive has no definite musical concepts. They believe in evolving through experience and open-mindedness. In a generation surrounded by countless genres of music, from House, Techno, World Grovve, Drum & Bass, Rock and Pop, the Remedy Collective draws inspirations from every genre, blending and creating new rhythms and grooves.

14 February
Nicky Holloway. London at Indulgence

When Nicky Holloway, Danny Rampling and Paul Oakenfold went on holiday to Ibiza together in the summer of 1987, they made a discovery that would change the face of clubbing. A combination of cosmopolitan nightclubs and Balearic beats totally transformed Holloway's perception of how clubbing should be, stimulating a desire within him to change the face of British clubbing. Some credit him with starting the Balearic summer of love. The rest, as they say, is history.

Nicky Holloway has been critical in the evolution of the clubbing scene and an original party person since the early 1980's. The multi-faceted Nicky Holloway is a DJ, producer, promoter, club owner, recording artist and all round good times guy.
180 orchard rd, peranakan place complex, Singapore 238846
office: 6732 6966 club: 6738 1000 fax: 6737 2411
web: www.rougeclub.com email: party@rougeclub.com