RESERVOIR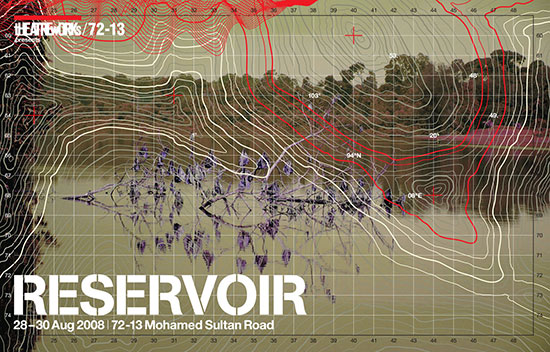 TheatreWorks/72-13 Presents
RESERVOIR

28-30 August 2008, Thursday-Saturday
8pm nightly/3pm matinee on 30 August, 72-13
Tickets: $28 / $15 (Concessions for Students, NSF and Senior Citizens)
For ticket purchases, please call 6737 7213 during office hours or email to tworks@singnet.com.sg.

Conceived + Directed + Multimedia by Choy Ka Fai, Associate Artistic Director, TheatreWorks
Written by Ng Yi-Sheng
Performed by Norico Sunayama + Rizman Putra + Patricia Toh
Sonic Compositions by Chong Li Chuan
Set and lighting design by Jiro Endo
| | | |
| --- | --- | --- |
| | | Deep in the heart of MacRitchie Reservoir lie the ruins of the Syonan Jinja, a Shinto shrine built during the Japanese Occupation of Singapore. Envisioned first as a spiritual and recreational centre for the future empire, then built by Australian POWs and Japanese craftsmen, today it exists only as stone relics and fragments, swallowed up by the thick tropical rainforest. |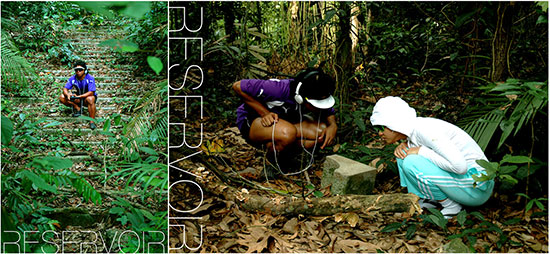 As young artists, we have embarked on a journey of discovery to reclaim this forgotten monument. Its very existence is intriguing – a beautiful artefact of civilisation from an age of blood and destruction. Its architects made outlandish promises: that the site would be the greatest in the world after the Meiji Shrine, that the area might be a future host for the Olympic Games.
Perhaps most provoking is the love-hate relationship between Singapore and the shrine. Historians and tourism promoters want it preserved, even rebuilt to commemorate our national heritage. Ordinary citizens, however, have violently objected to any celebration of former Japanese rule – even as they happily consume Japanese commercial and cultural products.

http://reservoirproject.blogspot.com/

Led by TheatreWorks' Associate Artistic Director, Choy Ka Fai, we are an ensemble of creative people from Singapore and Japan with roots in poetry, dance, drama, architecture, sports and multimedia. We have made pilgrimages to the jungle, probed the site scientifically, studied archival documents, drawings and oral histories, and processed our own collective memories to recreate and re-imagine the shrine as a sacred site.
Our performance, a tapestry of images, sound and movement, will be a drama of recollection, an attempt to capture the Syonan Jinja's sleeping spirit."
"Egypt has its pyramids, China its tomb of Shi Huang Ti, England its Stonehenge and Indonesia its Borobudur. Why not Syonan Jinja for Singapore?
It has its fair share of history, mystery and romance."
Report on Syonan Jinja Surveys September 1988. Records of Singapore Tourism Promotion Board.
National Archive of Singapore.

With support from








Hotel partner





Print partner : Double Six Press Pte Ltd


New Media partner



Official Radio Station