Play On Earth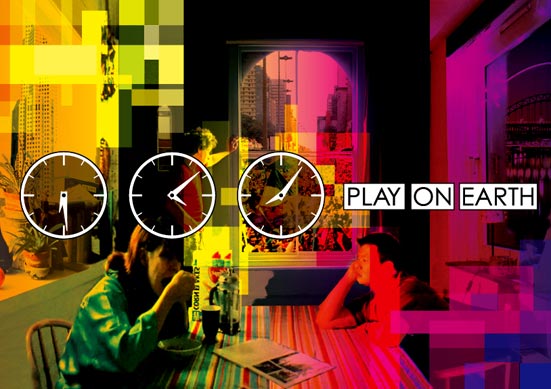 The Singapore Arts Festival presents
PLAY ON EARTH
Station House Opera (UK) in collaboration with
TheatreWorks (Singapore) and Philarmonia Brasileira (Brazil)
and NewcastleGateshead Initiative (UK)
World Premiere
Singapore Performance Directed by Jeffrey Tan
Performed by Gerald Chew, Keagan Kang, Noorlinah Mohamed
Dusk in Singapore, tea time in Britain, breakfast in Brazil.
Nine people from three continents perform in one single production.
A quayside building in NewcastleGateshead, a skyscraper in São Paulo and a riverside theatre in Singapore merge to become a fourth imaginary space.
Three audiences, one in each city, watch the performance simultaneously.
A Brazilian couple is eating breakfast, but the woman is very interested in the man sleeping in Singapore; and why is the English woman watching so closely? When he leaves his flat, she follows him through the streets of Newcastle to his rendezvous in São Paulo. The revelation of their relationships is played out across the globe - by performers in three continents together telling a story which is both universal and true to its own locality, its own culture and concerns.
What are our relations to the rest of the world?
Are we strangers or are we family?
The transcontinental world premiere of Station House Opera's major new work Play on Earth opens across the globe in June, a work that in every literal sense transcends time and space. This first time, three-continent work is a collaboration between Station House Opera, TheatreWorks, and Philarmonia Brasileira.
In São Paulo, Newcastle and Singapore, audiences arrive at a building to watch a show, all visible to each other as they take their seats. This global audience then discovers a much larger, fourth performance, visible on three screens above the actors. Projected simultaneously from three corners of the world, a narrative unfolds, immediate, unpredictable and alive.
Play on Earth is a major international collaboration between Singapore Arts Festival, Station House Opera, NewcastleGateshead Initiative, Northern Stage, Artsadmin, TheatreWorks, Philarmonia Brasileira and Bonito & Compri. Play on Earth is also performed as part of the World Summit on Arts & Culture in NewcastleGateshead with support from the auspices of the Arts Council England - National Arts Council Singapore Cultural Cooperation Programme.
Thu 15 – Sun 18, Thu 22, Sat 24 & Sun 25 June
72-13
Mohamed Sultan Road
$35 (exclusive of $2 SISTIC fee)
90 minutes (no intermission)
Performance Schedule
Singapore
Newcastle
São Paulo
15 June

9am

15 June

2am

14 June

10pm

15 June

9pm

15 June

2pm

15 June

10am

16 June

9pm

16 June

2pm

16 June

10am

17 June

4pm

17 June

9am

17 June

5am

18 June

2am

17 June

7pm

17 June

3pm

22 June

9am

22 June

2am

21 June

10pm

22 June

9pm

22 June

2pm

22 June

10am

24 June

2am

23 June

7pm

23 June

3pm

25 June

2am

24 June

7pm

24 June

3pm
Concessions & Discounts:
ArtsFest Club Members qualify for a 5% discount off tickets
Full-time Students, Senior Citizens & NSF qualify for a 20% discount off tickets (1 ticket per card per show)
SAFRA members qualify for a 10% discount off tickets (max. 4 tickets per card per show)
Enjoy 10 – 15% discounts off tickets when booking 3 or more Arts Festival productions
For school or group bookings, please call 6837 9627. All schools qualify for the 60% Tote Board Grant for tickets, as well as an additional 20% discount off tickets. For every 15 tickets booked, schools will receive a complimentary ticket. Click here for a booking form.
Enjoy the following discounts when you present your ticket/stub upon ordering at the following outlets at Mohamed Sultan Road:
20% off all food and drinks at Daybed Bar –Bed Supperlounge & Martini Bar (from now till 25 June 06)
Open 3 pm – 3 am everyday;
15, Mohamed Sultan Road Tel: 67336695 "Something very different for the Area"
15% off all dine-in food and drink items at Epicurious (from 15 – 25 June 06 only)
Open Tue to Fri 11.30 – 2.30 pm & 5.30 – 10 pm; Sat & Sun 9 am – 10 pm;
60 Robertson Quay, #01-02, The Quayside Tel: 67347720
www.epicurious.com.sg
20% off all food and non-alcoholic drinks at The Book Café (on day of performance only)
Open Sun to Thu 8.30 am – 10.30 pm; Fri & Sat 8.30 am – midnight;
20 Martin Road, #-01-02, Seng Kee Building Tel: 68875430
1 bottle of complimentary house wine with every $100 spent on food at River Café (on day of performance only)
Open Mon to Fri 12 – 2.30 pm & 6.30 – 10.30 pm; Sat & Sun 9 am – 10.30 pm;
41 Robertson Quay, #01-01, S'pore Tyler Print Institute Tel: 67328445
www.rivercafe.com.sg
For more information, e-mail TheatreWorks at tworks@singnet.com.sg or call 6737 7213
Supported by British Council and Embassy of Brazil.