Watch the Video Clip
[Contact us for full version]
NIGHT FESTIVAL: NEW WORLD 2010

National Museum of Singapore Presents
NIGHT FESTIVAL: NEW WORLD 2010
Conceived and Curated by Ong Keng Sen / TheatreWorks
Fri 16 & Sat 17 July 2010, 7.30pm – 2am
The National Museum of Singapore | Singapore Management University | The Singapore Art Museum | SAM at 8Q | The Peranakan Museum | The Substation | Dance Ensemble Singapore | Fort Canning Park |
Free Admission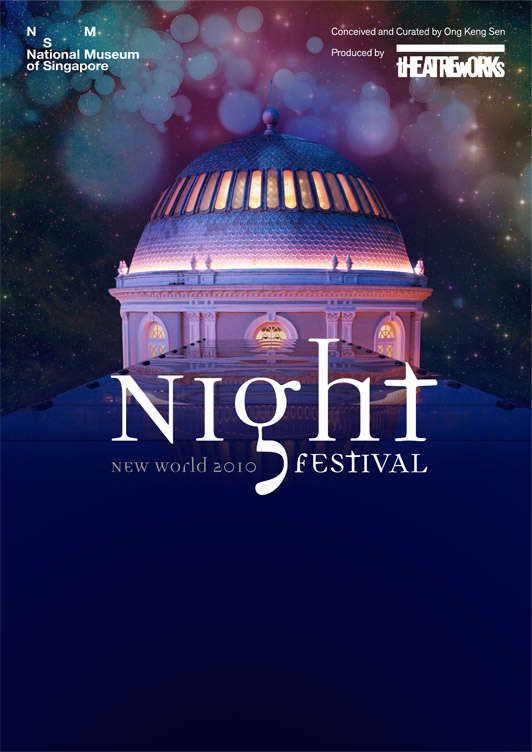 Conceived and curated by TheatreWorks' Ong Keng Sen, the worlds of entertainment will be evoked though a revue of circus, dance, drama and art!  A setting of shining colours, unique patterns and enchanting music is set to delight Night Festival goers. The heart of the night life, Putho!, a novel circus show created by Cambodian artists will amaze using a variety of forms such as contortions, acrobatics, juggling and balancing while accompanied by live musicians.

Ground breaking art collectives from Southeast Asia, featuring The Propeller Group from Vietnam, Manila's Green Papaya, Forum Lenteng from Indonesia and Singapore`s very own Vertical Submarine will infuse the night sky with a stunning amalgam of performances, street art, video projections and edgy art installations.

With a diverse line-up of activities and offerings for families and urbanites, expect to be startled by roving acts plying the festival grounds, dance with the taxi-girls synonymous with the 1960s fairground and groove along to the musical numbers from TheatreWorks' iconic productions. Cultural offerings are aplenty for those craving the traditional, from shadow puppetry theatre to a Mak Yong troupe from the Riau Islands.

Explore the museums and art venues at night for a wholly different experience! The possibilities are limited only by the imagination, come and be sumptuously entertained by New World 2010!
Message by Ong Keng Sen
NEW WORLD 2010
Entertainment in Singapore has had a long history.  Entertainment is not a recent phenomenon which began with the renaissance city but has roots going back in time.  In particular "live" entertainment was the vogue before television, computer games and cinema.  Singapore was once seen as the sin city to indulge, to party in and to dance the night away.  Singapore was the entertainment island to the Malay Peninsula, as Manhattan New York
City to mainland USA. It was always to the city lights of Singapore that young people from Malaya gravitated to. Singapore was the urban experience that was bold, glittering, tempting. In this city, there were 3 amusement parks: New World, Happy World and Great World. These are the inspirations for this year's Night Festival, produced by Theatreworks for the National Museum of Singapore, National Heritage Board. From stripper Rose Chan who reigned in New World, Jalan Besar; to the glamourous risque Bugis Street where the 'girls' paraded in nightly spectacles - Singapore had it all. Tonight, we bring back a little of the cheek, the gumption, the retro charm with Abusement Park by Vertical Submarine (Singapore); Island Divas, Samoan drag queens (Auckland); Wandering Moon, shadow puppeteers for the young at heart (ChiangMai).
Beyond history, New World 2010 is not just a walk down memory lane - it also draws from the entertainment of today. New media, veejays, deejays with (Not) The Bleeding Hearts Club from Green Papaya (Manila); to B-boys, graffiti, hip hop of Vietnam: The World Tour created by the Propeller Group (Ho Chi Minh City). The latter begins the Asian leg of their World Tour "live" in Singapore with top entertainers from Los Angeles (globally present on youtube, vimeo and internet). OK Video/Ruangrupa/Forum Lenteng from Jakarta bring their sizzling Indonesian 'people' festival for today, almost everybody is recording daily life using the digital video mode of their mobile phones. "Live" entertainment as a human effort is central to Human SMS by Wit Pimkanchanapong from Bangkok. Send an SMS to your loved one and see it displayed huge by a crew of movers who will emblazon your text in front of the Singapore Art Museum. Perhaps you can propose to your loved one on July 16, 17 2010 PUBLICLY!
New World of the 1960s had bangsawan, joget kiosks, open air cabarets where innocent funseekers could hire a taxi-girl ($1 for three dances), boxing rings, strongmen, local vaudeville, acrobats. Time travel back with the Night Festival! These memories will be evoked at the Singapore Management University (SMU) Green between the National Museum of Singapore and the Singapore Art Museum, as redesigned by FARM. Phare Ponleu Selpak will bring their celebrated circus, the best in South East Asia, to New World 2010. Juggling, balancing acts, contortionists, circus from Battambong, Cambodia will dominate the Green. Hire a taxi girl or a taxi boy to learn the fun of social dances from cha cha to mambo rock! Oogle at muay thai boxers who will display their machismo and skills. Go ethnic with the unusual mask performances of makyong from Riau islands. Interspersed within this atmosphere, encounter Dick Lee's songs about time travel where a conservative bureaucrat of today meets an audacious stripper from the 60s.
Tonight as we entertain the people of Singapore, we entertain History in our civic district.  For history can also be sexy, history can also be entertaining - how many of us know that Rose Chan launched her career, catapulting to fame, when her brassiere snapped accidentally during a too-vigorous dance?  Binding the past and the present together, is Entertainment - the contemporary art of the 21st century.
By ONG Keng Sen Curator,
Night Festival : New World 2010 Artistic Director,
TheatreWorks (Singapore)
Programme Partners:
Singapore Art Museum | SAM at 8Q | The Peranakan Museum | The Substation | Dance Ensemble Singapore
Venue Partners:
National Parks | Singapore Management University
With Support from:
Panasonic Systems Asia Pacific | Agility Fairs & Events
Official Hotel:
Rendezvous Hotel Supporting
TV Station:
Channel 5