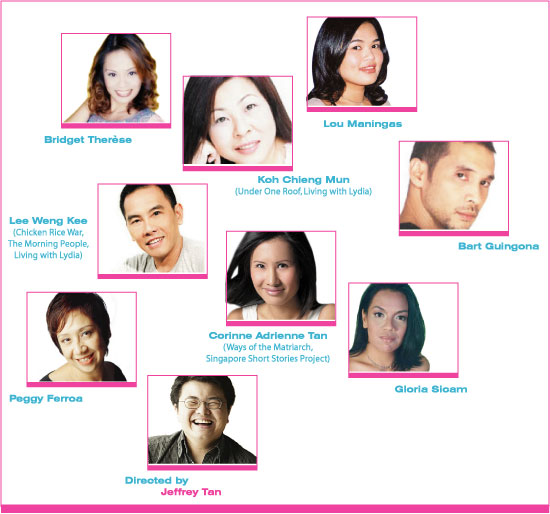 Ng Swee San | Playwright
Ng Swee San is a freelance writer and editor. When not writing annual reports, corporate brochures and advertisements, she thinks up stories which she hopes one day to develop into children's books and films.
She has had a passion for creative writing from an early age. In 2001, she learned that her play "Bowled Over" won second prize in the 24-hour Playwriting Competition 2000. Shortly after, she cut her teeth writing tv scripts on the children's drama series Kids United. She went on to write for 3 seasons of the popular children's programme. More recently, she has written for Moulmein High and the docu-drama series True Courage.
Shortly after her first foray into tv writing in 2001, she enrolled in a playwriting course conducted by Tan Tarn How. The course ignited further interest and she applied for Hearing Voices, the Writers' Lab programme in 2002 mentored by Tarn How. Marriage of Inconvenience is a result of the Hearing Voices Writers' Lab workshop.

Apart from reading, writing and swimming, Swee San enjoys long walks. But her chief pleasures are long lunches, extremely long vacations in idyllic settings, and daydreaming.
Jeffrey Tan | Director
Trained in Australia, Jeffrey has over 12 years of directing, writing and teaching experience. Since returning to Singapore in 1996, he has worked as Resident Director with The Theatre Practice (1997 to 1998), Drama Lecturer, Acting Head of School at LASALLE-SIA, School of Drama (1998 to 2001) and Resident Artist at St. Patrick's Secondary (2001 to 2002).
In 2002, Jeffrey joined TheatreWorks (S) Ltd as an Associate Artistic Director, heading the Education and Outreach unit. He has since created and taught the majority of the educational and outreach programmes to both schools and corporate organizations like the National Library Board.
For TheatreWorks, Jeffrey has directed Dirty Laundry, Watching the Clouds go by, Footprints in the Sand, Love Lust Infatuation, Sugar, Sugar, Sugar – the Diabetes Story and the Dramatized Readings. He was also Artistic Director for Arty Party - the Central Singapore District Arts Festival for 2002 and 2003.
Jeffrey has also directed 1 + 1 = 3 and Sex Heroes for The Necessary Stage, Lovepuke for Toy Factory and True Deep Blue for Tri-Arts during the 2000 Singapore Arts Festival's Late Night Series, Ah Boy co-presented by the Esplanade and People's Association and the unique magic musical Magic of Love for Touch Entertainment at the Singapore Indoor Stadium.
Currently, Jeffrey also sits on the National Arts Council's Singapore Arts Festival Programming Committee (2003/4) and is the President and Co-Founder of the Singapore Drama Educators Association.
Gino Gonzales | Set Designer
Gino is a protégé of the Philippines' foremost scenographer, Salvador Bernal, who had encouraged him to pursue further studies in Theatre Design. With the aid of a Fulbright Scholarship and an Asian Cultural Council Grant, he obtained an MFA in Theatre Design at New York University's Tisch School of the Arts. He was also given both the Meier and Seidman Awards by the University for academic excellence.
He has designed several productions in New York, such as the costumes for the world premiere of Han Ong's Middle Finger. He recently returned to Manila and currently designs sets and costumes for the Cultural Centre of the Philippines' resident companies – Tanghalang Pilipino and Ballet Philippines. His last work for TheatreWorks was the set for Comrade Mayor.
Lim Yu-Beng | Lighting Designer
Although better known as an actor, within theatre circles, Yu-Beng is also known as a lighting designer. His latest designs include Fireface for Toy Factory (for which he received an Honourable Mention at the 2003 Life! Theatre Awards) and Up North, Down South for Checkpoint Theatre.
For TheatreWorks, he designed Comrade Mayor, Machine, P.I.E., Beauty World 1998, (President's Star Charity), Us in Singapore (proscenium converted into round), Lao Jiu which toured the Perth Theatre Festival, Broken Birds (outdoor epic), and Wills and Secession. He designed Mee Pok Man and Comic Potential for Fiction Farm, and in 1996, he designed Madam To Sup-Neung. He also co-designed the lights for Under the Bed and set and lights for Light in the Village.
As Technical Manager of TheatreWorks from 1990 to 1994, Yu-Beng supervised the mounting of all the company's work in that time; including Trojan Women (performed in an abandoned quarry), Three Children (Singapore, Tokyo, Yokohama), Theatre-On-The-Hill (the original theatre carnival on Fort Canning), Madam Mao's Memories (Singapore, Edinburgh), Beauty World '92 (Osaka, Tokyo, Fukuoka, Singapore), Lao Jiu (Singapore, Perth), and Longing.
He recently supervised the flying of actors in Toy Factory's The Seventh Drawer, and also Theatre Practice and Teater Mandiri's The Coffin Is Too Big For The Hole.
Corinne Adrienne Tan | Sabrina Wong
Best known as the leading lady of front running television dramas and telemovies like Heartlanders, Ways of the Matriarch, Restless, Brothers 4, Singapore Short Story Project and One Peep Too Many; Corinne Adrienne's film credits are no less impressive, having starred in the Singaporean comedy City Sharks and Spinning Gasing.
Of French-Chinese-Peranakan descent, this versatile, multilingual actress has worked in six different languages in a chameleon-like range of roles in various mediums, both in Singapore and Malaysia.
Trained at the Victoria College of the Arts, Melbourne, Australia, and although more experienced in front of a camera, Corinne is finding an increasing love for the theatre – having acted in several theatre productions such as Spilt Gravy on Rice (DramaLab), The Good Daughter (Five Arts, Malaysia) and Mardi Gras by The Necessary Stage. Marriage of Inconvenience will be her fourth stage production.
In 2004, Corinne's upcoming films include Outsiders, Bipolar and Trance.
Bart Guingona | Gabriel Fernandez
Bart Guingona is a veteran of about a hundred theatrical productions in the Philippines. He has worked in the theatre in various capacities, from producer to director, from actor to designer. As an actor, he established himself as the country's foremost classical player, essaying roles as varied and challenging as Hamlet, Macbeth, Oedipus, Jose Rizal (the Philippine National hero), John Proctor, The Crucible, Madame, The Maids and countless other leads.
Bart has proven equally adept at essaying light comedic and dramatic roles in the works of writers like Neil Simon and Ray Cooney. In 2001, he won the country's most prestigious award for stage performances, the Aliw Award for Best Stage Actor for his portrayal of the conflicted Chinese-Filipino university professor teaching English to Americans in Paul Lim's Mother Tongue.
As a director, he is known primarily for selecting intellectually challenging material and opening them up to wider audiences. He has directed the works of Shakespeare, Ibsen, Chekov, Mamet, Rabe, Hare, Cocteau, Marber and many others. He fulfilled a couple of grants in London on advanced directing education. He also contributes to the leading broadsheet of the Philippines, The Philippine Daily Inquirer, as a theatre columnist.
His company, Actor's Actors Inc., apart from being a highly acclaimed theatre group is also an events organizer that specializes in theatrical events.
Koh Chieng Mun | Phyllis Wong
Koh Chieng Mun is one of Singapore's most well known comedic actresses. Best known for her role as Dolly in the well loved sitcom Under One Roof that won her an Asian Television Award, Chieng Mun has gone on to work alongside Hong Kong actress Lydia Sum in the highly rated sitcom Living with Lydia.
She celebrated her own coming of age with a sell out one-woman show, Fabulous at Forty.
Her international film roles include Pavilion of Women, in which she starred alongside Willem Defoe. She has also starred in the Singapore movie City Sharks, which won an American Screen Arts Foundation Award for Best Comedy.
Chieng Mun sings as well as she acts. She has taken on many roles in musicals such as Dick Lee's Beauty World, Fried Rice Paradise and Nagraland as well as operas La Traviata and The Mikado. She has also written and performed her own semi-dramatized concert, Diva and the Dancer.
Chieng Mun hopes to pursue her love for teaching music. She has a teaching practice in arts education and has recently returned from a music summer camp in Brisbane. She hopes to help nurture the young in learning and using the benefits of performing arts to a more creative end.
Lee Weng Kee | Henry Wong
Weng Kee started out as one of the most promising solo finalists in the National RTS Talentime in 1978. He went on to garner the coveted role of Judas in the Andrew Lloyd Webber rock opera Jesus Christ Superstar for the Sceneshifters. Having won rave reviews as Teo Ah Beng in Army Daze for TheatreWorks, he proceeded to become the most memorable under-dog food & beverage manager, Cedric, in Ah Kong's Birthday Party.
At the 2000 Life! Theatre Awards, he earned a Best Actor Nomination for his performance as Fu Long, which spanned 4 decades from a 20-something young man to a decrepit 60-year-old in Toy Factory's A Tinted Edge.
A familiar face on and off stage, his film and television accolades include Chicken Rice War, The Locked Room, Mediacorp's Happy Belly, Growing Up and Living with Lydia and Mediaworks' Ah Girl.
Effectively bilingual, Weng Kee also starred in The Morning People and Mad Phoenix for the Hua Yi Chinese Festival of Arts at the Esplanade – Theatres on the Bay.
In November 2003, he toured several cities in China performing in the musical magic show, Magic of Love.
Lou Maningas | Dizzy
Lou has been performing for as long as she can remember. She always found herself participating in plays and productions in school and was always asked to sing at family gatherings and parties.
But she realized her love for theatre when she found out she could mix her passion for singing and her zest for acting onstage. While studying, she did 13
Daughters (Kinau), Saul Of Tarsus, Katipunan (Inang Bayan), Now I See You and Restricted; mostly for Harlequin Theater Guild.
After finishing a degree in Information Technology, she planned to concentrate on her career but was soon lured back into theatre when offered the role of Asaka in CircleIsle Theater's Once On This Island.
Since then, she has worked with various highly esteemed theatre companies in Manila doing musicals as well as straight plays. Her credits include Himala The Musical (Mrs. Alba), Cinderella (Stepmother), Oraciones (Cleopatra), As You Like It (Audrey), 13 Daughters and Godspell, among others.
She appears on Karen's World on RPN Channel 9 and ABS-CBN 2's Star Studio Presents.
A TV/Print Ad Model, she's done several commercials and is popularly known as the endorser of Selecta Wall's Sundae Ice Cream.
Currently, Lou also works as Consultant for RCG IT in the Philippines. She is set to do Full Monty The Musical with Michael De Mesa and RJ Rosales this year.
Gloria Sicam | Louisa
Glory hails from the Philippines, where she started out in theatre doing wholesome roles such as a jaded nun in the Sound of Music, a mother rabbit and evil hag in The Lion, The Witch and the Wardrobe, a swordfish and lady-in-waiting in The Little Mermaid, a funky-haired ensemble member in Joseph the Dreamer, and most recently, various kinds of fowl in the Manila run of Honk, all for Manila's first Christian Theater company, Trumpets.
But when Glory joined another theatre company in the Philippines, Atlantis, she discovered that theatre wasn't all nuns and rabbits and fish. She was Alexi Darling in all 3 runs of Rent, an apostle in the rock musical Jesus Christ Superstar, a scantily clad Phantom in The Rocky Horror Show, a scantily clad, headdress-balancing Vegas showgirl in Dreamgirls, and just last December, Soupy Sue in the critically-acclaimed Urinetown.
Glory's first love will always be theatre, but writing is a close second – she writes for various publications like the teen magazine Pink and showbiz-oriented magazine Star Studio. Another passion for Glory is teaching – she teaches acting workshops for kids and teenagers over the summer.
Other plays where she also had the time of her life were Chang & Eng – the Musical (Malaysian tour) for Action Theatre, and Promises, Promises for AAI.
Bridget Therèse | Conchita
Bridget's passion for language and theatre began at a very young age. Awkwardly shy as a child, she felt safe expressing herself in reading, poetry, singing, dancing and eventually acting.

Her first professional theatrical debut was in America in the 80's, where she was asked to be the assistant director for Cinderella by the LiTA award-winning Alameda Children's Musical Theatre. Soon after, she was employed to choreograph their next few productions. One day, while asked to stand in for a performer in A Winter's Tale, a Christmas musical, Bridget found her true calling, going on to play a variety of roles in plays and musicals in America and England.
Back in her hometown Singapore, Bridget has performed with diverse theatre companies and appeared in productions such as Breaking China, Sugar Sugar Sugar - The Diabetes Story, Sylvia and Cinderel-lah.
This versatile actor also teaches drama to children of all ages and appeared in the Mediacorp Channel 5 sit-com Achar. In October 2003, Bridget formed For Heaven Sake, a group that spreads the good news through drama, movement and music.
Peggy Ferroa | Cleaner
Peggy Ferroa started out doing work for radio, after which she worked for television as a dubbing artiste, as well as an acting talent. Best known for being a regular on Gurmit's World, Peggy has played numerous character roles in variety shows, sitcoms, dramas, films and commercials.
Peggy has also worked for various Singapore theatre companies. Her stage productions include Michael Chiang's Private Parts, Stella Kon's Feeding the Armadillo, Russell Heng's Half Century, Sir Alan Ayckbourn's Comic Potential and Terence Rattigan's Deep Blue Sea.
She is also a speech coach and has worked with actors, SRT's Young Company, schools and individuals from MNCs. Peggy also puts together corporate events and writes programmes and concepts for television. She is a member of the Association of Singapore Actors (ASA) and the Singapore Drama Educators Association.