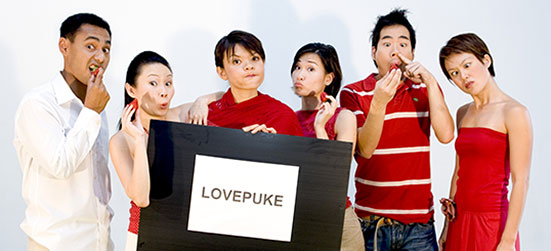 By TheatreWorks, Education & Outreach
Esplanade Theatre Studio
11 & 12 June 2005, Sat & Sun,
3pm & 8pm
(60 mins with no intermission)
Starring Life! Theatre Award winners Janice Koh (2003), Chua Enlai (2002) and Ravi Raaj Marimootoo (2005); Brendon Fernandez, Chermaine Ang, Denise Tan, Rajesh Krishnamuti and Annie Lee. Directed by Jeffrey Tan.

Fast pace, quirky contemporary love play about 8 people who fall in and out of love, sex and relationship!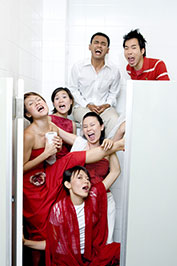 SEX. ARGUMENT. ARGUMENT. MAKE UP. SEX. ARGUMENT. ARGUMENT.

So begins "Lovepuke", a comedy about sex, love and other bodily functions.

Duncan Sarkies' somewhat surreal play charts the progress of eight young people as they go looking for love, with mixed results.

Glen is a healthy cynic who is convinced that love equals misery. Hermione is an undiscovered performance poet, obsessed with bodily functions. Ivan believes that he deserves the perfect woman, as he is the perfect man. Janice is a dreamer, in love with the idea of being in love.

Kevin picks up women in singles bars, refusing to acknowledge that he might be gay. Louise frequents singles bars also, looking for sex without attachment. Marissa thinks that being single means that there is something wrong with her and Nathan just wants to meet somebody he can introduce to Mum.

Presented as part of Esplanade's Flipside Festival. In conjunction with Singapore Arts Festival.