Incarnation of the Beast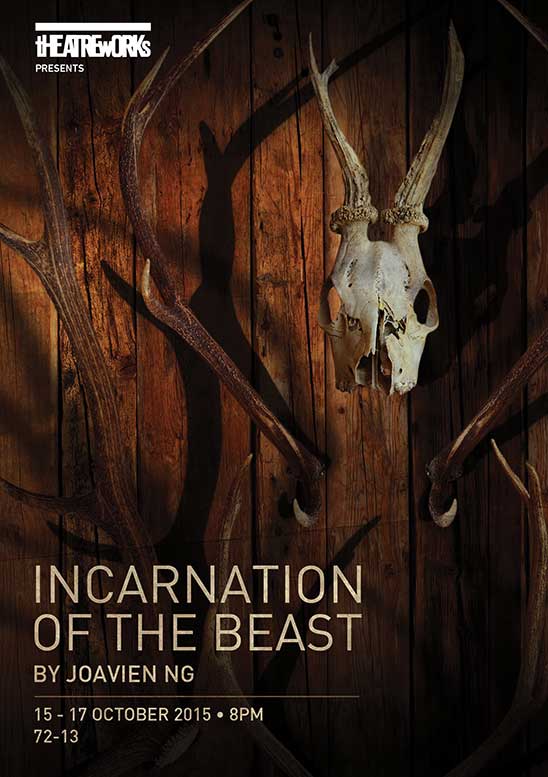 Incarnation of the Beast
by Joavien NG
Performed by Ali Anwar, Bjorn Lee Varella, Dana Lam, Deborah Emmanuel, Hamzah Alsagoff, Isaac Lim, Ivan Lim, Riley Huang and Tan Liting
The feisty and talented performance maker, Joavien NG returns with a new creation after a two-year hiatus. As Associate Artist with TheatreWorks (Singapore), Joavien creates Incarnation of the Beast, which exemplifies her signature blend of dance -theatre, embodying simplicity amidst injections of dark humour.
Incarnation of the Beast is a collaboration with nine performers who come from diverse backgrounds and body histories: Ali Anwar, Bjorn Lee Varella, Dana Lam, Deborah Emmanuel, Hamzah Alsagoff, Isaac Lim, Ivan Lim, Riley Huang and Tan Liting. Incarnation of the Beast is a visceral confrontation of one's most intimate demons. Exploring the themes of obsession, ritual and tragedy, Joavien and the nine performers, emotes sympathy with pleasure, discomfort with inexplicable excitement. In this work, Tragedy is seen as a personal and intimate constant in one's daily living and existence.
"A tragedy is the imitation of an action that is serious and also, as having magnitude, complete in itself; in appropriate and pleasurable language; in a dramatic rather than narrative form; with incidents arousing pity and fear, wherewith to accomplish a catharsis of these emotions."
– Aristotle
TheatreWorks (Singapore) continues its long-established belief in supporting Singapore artists. And at the same time taking risks with these artists like Joavien, who is known for her unorthodox creations that defies categorization, while embracing diversity & otherness.
About Joavien NG
Joavien NG began her creative career in 1997. Her works have travelled through Asia and Europe. This independent dance talent has pushed the Singapore dance scene beyond mainstream forms towards a multi-disciplinary stage. Joavien often defines a new way to experiment by breaking traditions in dance. She constantly blurs the boundaries between dance and other art forms such as theatre.
Joavien examines the world from multiple perspectives through an experiential framework. Drawing on her own experiences of being simultaneously an Asian and a global citizen, she delves deep into human nature and the construction of one's identity and its accompanying volatility. Diversity in interpretation and perceptions are both important and interesting for her as she questions the norm and the accepted.
Joavien treats all body movements as a form of art, even if they do not fall neatly within a particular dance style. She is passionate about contemporary dance because it expresses how real bodies move, with its natural instincts and clumsiness.
Her earlier works include - a LIFE performance (2012); The Diary of Alice with Paloma Calle (2011); Body Swap with Dani Brown (2009); LAB (2008) and Body Inquire (2008).
Performance Details:
15 – 17 October 2015
8PM
72-13 Mohamed Sultan Road, Singapore 239007
The rating for the performance is General.
Tickets:
$18 Standard
$12 Concession for Students and Senior Citizens above 62
To book your tickets, email incarnation@theatreworks.org.sg or call us at 6737 7213.
Tickets are limited; book your tickets now to avoid disappointment!
This performance is not advisable for children 7 years and below.
Visit our blog at http://incarnation2015.wordpress.com for news and updates about Incarnation of the Beast.
The presentation of Incarnation of the Beast is part of TheatreWorks' long established belief in developing and nurturing Singapore artists. It is also part of TheatreWorks' aim to present innovative contemporary performances and artistic expressions that offer Singapore audiences alternatives.
Its home, 72-13 is an incubator for artistic experiments by both artists and creatives, while being a consistent conduit for dialogues between disciplines and cultures.