Friendsí Season
Memory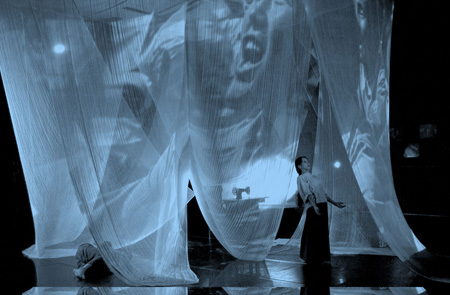 Memory
Living Dance Studio
Beijing
A giant mosquito net hangs above the stage.
A shroud for remembering.
A 1960s pedal-operated sewing machine.
An attempt to string together individual memories to patchwork a piece of history.
Three artists – a choreographer, a dancer, a documentary filmmaker – come together to remember the rise of modern China, from the 1960s to the Cultural Revolution.
Negotiating time, memory and subjective realities, the three artists embrace and confront the act of remembering.
Part of TheatreWorks' Friends Season – Tenderness For The Future, Memory reflects the company's interest in the deep engagement artists keep with history, performance and cultural memory. TheatreWorks first collaborated with Wu Wen Guang (documentary film maker) and Wen Hui (choreographer) in 1997, Workhorse Afloat. Since then, the friendship has deepened with The Flying Circus Project and other international workshops/labs curated by TheatreWorks. In 2007, Ong Keng Sen served as mentor in their May dance festival in Caocangdi, Beijing.
Memory premiered in August 2008 at the Biennale de la Danse, Lyon.

Event Information
Date: 16 & 18 April 2010
Time: 8pm Admission: $25