Nay Nai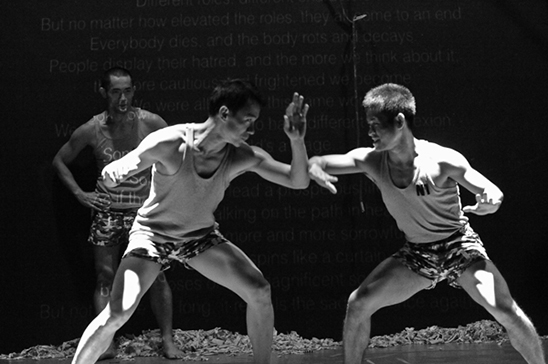 Interview with Pichet Klunchun
by Pawit Mahasarinand
Nay Nai: The Reality TV Show?
Rewritten from his Master of Arts thesis in Women's Studies for Thammasat University, Chanan Yodhong 's Nay Nai Samai Ratchakan Thi Hok (literally, Men-in-Waiting During the Reign of King Rama VI)—with the attention-grabbing tagline "When women were not welcomed in the royal court, who replaced Nang Nai (ladies-in-waiting)?"—was published by Matichon Publishing House in March 2013, and, of course, created a considerable amount of controversy since its official launch at the National Book Expo. Is this book your main source of inspiration for Nay Nai?
Indeed, the book has significantly influenced this work. Also, I've been in interested in how our community of performing artists is highly LGBT, to begin with. And that's not only in Bangkok, but upcountry I also find young boys dressed up like girls performing in ceremonies and not to their parents' objection.
I read the book and instantly found it fascinating. What I've been working on, Khon [masked dance theatre], is directly relevant to what King Rama VI did. Thanks in part to his educational background in the UK, he reorganized the production process of Khon—for example, the writing of Khon's production script. From reading this book, I find these men being trained not only as actors and dancers, but also soldiers and athletes. In other words, they became "gentlemen", in the western sense.
With some doubt on the book's authenticity, I met with the writer and found that it was his thesis based on his long study of primary and secondary sources of documents as well as personal interviews [the bibliography is 23 pages long]. Chanan himself coined the term Nay Nai.
For me, Nay Nai represents a major change in the male-female power in the Siamese court during the reign of King Rama VI. Afterwards, Nang Nai (ladies-in-waiting) replaced them and shortly afterwards we became a democratic country. What's also fascinating for me is that these Nay Nai was honored more highly than their female counterparts in the previous reigns. Moreover, dance, music and theatre masters in this reign were bestowed with prestigious titles like never before. By strong contrast, dance, music and theatre artists nowadays are frequently viewed with the Ten Kin Ram Kin ("dancing to make ends meet") attitude.
Is that partly because performing arts, after the change to democracy, is under the supervision of a government agency, not the absolute monarch?
That's right and it's also because there's no longer direct relationship between the king— main patron of performing arts in addition to prolific playwright, director and actor—and his artists.
Then, how do you turn this intriguing anecdote of our history into a stage performance?
I'm connecting it to the worldwide phenomenon of reality TV show in which contestants are being trained with various skills. For example, those in "The Voice Thailand" study how to sing different kinds of songs, and those in "The Comedian Thailand" study Thai country music singing, Likay (folk dance theatre) as well as Khon. And so I wonder what it would be like if we go through the similar kind of training to those of Nay Nai a century ago in the framework of reality TV show. Apart from camaraderie, there's, inevitably, a high level of competition among them. Reality TV contestants become winners purely subjectively by SMS votes, and that's not necessarily based on their skills. Likewise, the men-in-waiting were promoted by winning the heart of the sole jury, the king that is.
In the performance, I'm using two games played by Nay Nai to train physical strength and energy, as documented by Chanan in his book. And as I notice that their games focus more on physicality, I've added a game which trains the contestants intellectually. In the last game, we'll perform a play.
In these four games, I'm exploring four different types of their relationship—based on object, body, experience and spirit. To elaborate, in the first layer, if I say that the Eiffel Tower is beautiful, you'd understand how if you were there. For the body, it's from how your bodies share the same space or contact each other's. For the experience, it's our shared experience of, for example, getting into a fight with this certain group of people. Lastly, and the most complicated, is how they, after the previous three stages, create their own world—whether it's reality or not. And so we'll perform Mit Thae (literally, "True Friends"), King Rama VI's adaptation of Arnold Golsworthy and E.B. Norman's play My Friend Jarlet, but not in the spoken drama style the way it's written.
Why did you particularly pick this play?
It's one of King Rama VI's favourite plays—he performed a lead female role Mary and even named his favourite dog "Jarlet", whose monument can be seen in his Sanam Chan Palace in Nakhon Pathom province, west of Bangkok. I think the tightly knitted relationship among Nay Nai is similar to that of the characters in this play. In their days, they had their own space, in which they engaged in social, political and cultural activities altogether, and this, in a sense, is like an imaginary world of theatre.
And this is also like how contestants in some reality TV shows spend a few weeks or even months under the same roof—sharing bathrooms, bedrooms, swimming pools while competing with one another.
Exactly. And competition is always present in all these games and each audience member goes through his own thinking process and in the end gets to vote for his favorite, although he doesn't have to press any button or send an SMS.
This subject matter is a very sensitive one in Singapore. Are you sure you won't get into any trouble?

We've closely followed the guidelines of the Singaporean government in making this performance suitable for all audiences. Of course, for those who have seen my company's works, you'd know that we will never stage just an entertaining game show. It has many different layers than what meets the eyes and each audience would view it with different lenses.
How does Nay Nai fit into the repertoire of Pichet Klunchun Dance Company and how has it benefited the development of your company members?
It's a step forward for us, but it's not a clear development, in terms of dance techniques, as that in last year's Tam Kai. The significance lies in how we've been shaping up this work, based on three aforementioned elements—the play Mit Thae, the book Nay Nai Samai Ratchakan Thi Hok and the reality TV show format. Usually, our company's works would fit in either dance or theatre framework, but Nay Nai doesn't.
Does that mean the audience should read Chanan's book before watching your Nay Nai? The English translation is not yet available although I'm sure it's forthcoming.
That's not necessary. And even though those who've read the book will instantly recognize some characters, I think their relationship is more important. I'm more interested in how these male bodies went through different types of training. Because of this, we started our first month of rehearsal by inviting a Thai boxing trainer to our studio while we're, dramaturgically, exploring the issue of masculinity.
Speaking of which, many young and beautiful women are now practicing Thai boxing in gyms despite the fact that historically they're barred from this ancient sport.
Yes, it's a major trend now. It helps them lose weight and firm their bodies. It's also an evidence that our society is more open.
What else did you and your dancers train in preparation for Nay Nai?
After Thai boxing, we did wrestling, with more freedom than what we see in the actual competition, of course. We also practiced more classical Thai dance and spent much time in pole dancing.
I know that pole dancing is no longer exclusively related to Patpong but I still can't see how it would fit into the context of Nay Nai.
We refer to pole dancing as Ten Sao, which is, interestingly enough, exactly the same as that of a physical training exercise for any Khon dancer and so we've adapted its elements to fit our work. Plus, pole dancing works well here symbolically.
Wouldn't the combination of Thai boxing, wrestling and pole dancing training affect your classical Thai dancer's body?
It does considerably and we're well aware of these changes in our bodies. However, we're no longer aiming at achieving the perfect body of a classical dancer. Instead, we want to perfect the way in which we lead our classical dance into sheer comprehension of something else in the contemporary milieu. Even one with the perfect body can lose it once he's away from practice for a few months. Also, I believe that if a contemporary dance artist restricts himself only to one form of dance, his body will develop a language that he will never be able to deconstruct.
For the final part, you're also experimenting with computer technology—this is your first time. Can you elaborate how this fits into your production concept?
King Mongkut's University of Technology Thonburi professor Priyakorn Pusawiro, who's been watching our company's works for a few years, approached me with the idea as she used to apply her skills to many theatre productions during her graduate studies in Germany. I've already been interested in this technology for a few years, but haven't found any Thai scientists who've worked with artists. She then came on board as the computer engineering team leader.
We started by attaching the lighting censoring system to such a set prop as the four poles. Later, we pushed the envelope further by discussing the idea with the costume designer. The question is how we can create the world of theatre for this final part, with the absence of performance. The answer is that we have to create a fantastical—not realistic—world which is totally different from that of the audience. We've decided that our costumes be made of transparent plastic through which the performers' bodies are visible then we line the small fluorescent light tubes along the structure of these costumes. The effect is like that of deep sea water fish, and that's clearly another world.
Does this also affect your physical movements?
When we first rehearsed the play, we interpreted it the same way they did with spoken plays during the reign of King Rama VI, focusing on hand gestures which illustrate the dialogues. When we put on these plastic costumes, though, it's like we're mummified. And so I reconsidered the different techniques of dance, theatre as well as physical theatre, and, in order to create this unique world, tried to find a way that wouldn't fit into any of them.
What I did was, first, asking my dancers to physicalize each of their memorized dialogues into a set of movements. Then, I asked them to show me only one representative movement for each line, no matter how long, while speaking the line in mind and ridding any relevant emotions in their facial expressions. As a result, they're thinking, but without emotions; they're moving, but one movement has no relationship whatsoever to the next—they've become odd characters living in their unique world, similarly to that of those men-in-waiting.
This crazy idea of mine turned out to be a highly challenging task for our company whose most members were trained solely in dance, and never in theatre. Two cast members of Nay Nai, given such a direction, ended up like robots performing tableaux vivants. I suddenly realized that their classical Thai dance training has taken verbal communication skills out of them—in the classical performance they only listen to the songs and recitatives and their bodies respond accordingly. And so, tackling this has turned out to be another technical development for our dance company.
Given its historical relevance, which makes it even more sensitive, would the staging of Nay Nai be possible in Thailand?
We recently had an open rehearsal of Nay Nai at our Chang Theatre. Audiences laughed their heads off from the beginning to the end and I think it's because of the high volume of physical comedy. For example, four mature adults like us engaging in a kid's game like Ti Chap—a wrestling-like game in which members of two teams try to capture members of the opposing team by crossing into the other zone while voicing "Ti" as long as we can in one breath—is truly hilarious. At first, though, some audiences were not sure how to take it—like I said, it's neither dance nor theatre.
Chanan was also there and he expressed his thanks, saying, "I'd been with these people for a few years and I'm very happy to see them come alive." Two other audiences voiced the same opinion, separately—that they felt much pity for these men-in-waiting. I concur: despite their high social status, they were restricted in their own world. I wish they had had more freedom, the same way their contemporary counterparts do.
Given the fact that each member of audience will always perceive this work differently, I'm sure that the actual production in Thailand is very possible.
Pawit Mahasarinand is the president of the Thailand center of International Association of Theatre Critics (IATC). He has taught theatre and film criticism at Chulalongkorn University since 1992, and written dance and theatre reviews for The Nation newspaper since 2001.