Lear Dreaming



Conceived and directed by Ong Keng Sen
European Premiere

10 – 13 June 2015
Théâtre Des Abbesses
Paris, France
Lear Dreaming by Ong Keng Sen toured Paris in June 2015 on special invite by the most prestigious theatre in Paris, Théâtre de la Ville as part of the Singapour en France – le Festival. This was the first time that France has invited Singapore to present the best of its contemporary arts and culture and heritage in a large-scale showcase as part of celebrating 50 years of diplomatic ties between Singapore and France.
A DREAMLIKE LEAR
The Singaporean (theatre director) Ong Keng Sen revisits the Shakespearean tragedy only keeping its essential allegory of the power that corrupts human relationships.
Written in French by Sylvie Martin-Lahmani
Translated by Benjamin Jouannes
Created in 2012 by Ong Keng Sen, Lear Dreaming is not his first adaptation of the Shakespearean tragedy. The Singaporean director had already adopted King Lear in 1997, claiming eclectic aesthetics from the standpoint of interculturalism, which has since become his signature: a humanist and philosophical thinking just as much as a working process.
Haunted by this text which he keeps coming back to since his childhood, the artist and citizen of the world acknowledges that it oddly echoes the context of the city in which he lives, Singapore (a multicultural city-state and economic superpower in Asia). Something archetypal appeals to him in the story of that old man – and King – who wants to measure the extent of his daughters' love for him, until he ultimately banishes the most loyal of them. While Ong Keng Sen's 1997 adaptation offered a more political interpretation of the Shakespearean play, Lear Dreaming focuses on the meanders of human soul: ambiguity of the resistance and/or ambivalence when facing despotic fathers…For him, King Lear is very similar to those Chinese melodramas where parents quarrel about problems of filiation, of legitimate and illegitimate children – and the consequent risk of parental betrayal.
With a greater focus on these issues of personal nature, the Asian creator revisits (the work of) the great English playwright, only keeping its essential allegory of the power that corrupts human relationships. In order to explore in an abstract manner this story of a girl rejected by a father that is losing power and mind, Ong Keng Sen has undertaken a multifaceted reading of Shakespeare's play. This King Lear, rehearsed during intercultural workshops, has been confronted with very diverse languages, cultures and disciplines (coming mostly from Asia):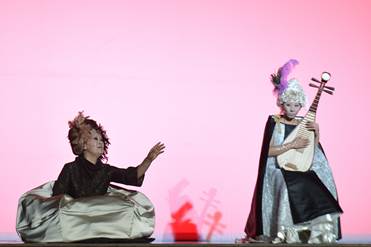 Japanese Noh theatre, Korean and Indonesian singing… Along with these traditional theatrical forms executed masterfully, Ong Keng Sen calls a luminous and ultramodern scenography on a simple stage. Lasers and geometrical rays of light dialog with the performers. An ensemble of gamelan converses with an electronic musical composition. Sumptuous costumes and masks stand at the crossroad of past and future.
In this ghostly symphony of sound and images, where the text is reduced to the essential, fantasizing opens out to infinity. Choral work where disciplines meet without dissolving into each other, a Brauhaus creation revisited by a Bob Wilson… This Lear Dreaming must be traversed like a dream in technicolor.
Lear Dreaming is part of the Singapour en France - le festival
Singapour en France - le festival is presented by Institut francais, the National Heritage Board (Singapore) and the National Arts Council (Singapore), and supported by the Ministry of Foreign Affairs & International Development (France), Minstry sof Culture & Communication (France), the Ministry of Culture, Community & Youth (Singapore) and the Ministry of Foreign Affairs (Singapore).
Lear Dreaming is supported by the Cultural Matching Fund
With Support From

Engagement Programme Sponsors

New Media Partner

KUO PAO KUN
FOUNDATION

TheatreWorks (S) Ltd is a recipient of the National Arts Council's Major Grant for the period from 1 April 2013 to 31 March 2016