Watch the Video Clip
[Contact us for full version]
GEISHA

Conceived and directed by Ong Keng Sen
In collaboration with Karen Kandel, Gojo Masanosuke, Kineya Katsumatsu, Toru Yamanaka
Text by Robin Loon
Designed by Scott Zielinski, Mitsushi Yanaihara
Sea of remembrance:
"How cruel the floating world
Its solaces how few-
And soon my unmourned life
Will vanish with the dew"

listen to
Kineya Katsumatsu's Spring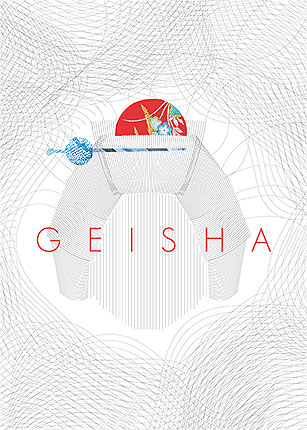 "Geisha is perhaps one of the biggest symbols of Japanoiserie, it is an empty screen on which all our fantasies of Japan can be projected, even for many contemporary Japanese individuals today who do not come into contact easily with this old world.  However it is not just exotic but it is a powerful arena to discuss the water world or a dream world, a floating world.  It seems to encapsulate many notions of Japanese identity, gender relationships but more universally it is a space to discuss life, dream and reality for the world.
New York-based performer Karen Kandel, winner of several Obies, will weave together stories from geishas, maikos (apprentice geishas), clients, their wives, okamisans (mama-sans), offspring of geishas, anthropologists.  Kandel will animate this voice tapestry, giving life to the secret world of the geisha.  Joining her onstage will be female impersonator, kabuki dancer Gojo Masanosuke.  He will dance the female onnagata role drawing from the age-old repertory of kabuki and nihon buyoh (classical Japanese dance).  For the geisha is the tragic heroine of many a kabuki play.
Kandel and Masanosuke complement each other, these two unexpected conspirators will jointly evoke the dream of the absent geisha. They are the dream sellers, like the geishas.
Finally there is the element of music for the geisha spins her atmosphere through the art of stories, dance and music in the ochaya (tea house) with her clients. Kineya Katsumatsu, from the famed traditional school of shamisen, joins forces with electronic wizard Toru Yamanaka who created the contemporary soundscapes for the seminal shows of Dumb Type.
It is my hope to bring together the fantasy of the geisha as well as the heartfelt voices of this world.  In all my work, I bring opposites together in that they will nurture each other.  The enriching dialogue that I have engaged in between the traditional and the contemporary continues in Geisha." - Ong Keng Sen
Commissioned by the Singapore Arts Festival, Geisha is the second production – the first being Silver River - by Singapore director Ong Keng Sen to be invited to the Spoleto Festival in Charleston and the Lincoln Center Festival in New York.
Spoleto Festival USA, Charleston, South Carolina, USA (SOLD OUT!)
26 – 30 May 2006
Singapore Arts Festival, Singapore
9 & 10 June 2006
Lincoln Center Festival, New York City, New York, USA
27 – 30 July 2006
Goteborg Dance & Theatre Festival, Goteborg, Sweden
18 & 19 August 2006
Hong Kong New Vision Arts Festival, Hong Kong
17 & 18 November 2006
With Support from