Watch the Video Clip
[Contact us for full version]
Diaspora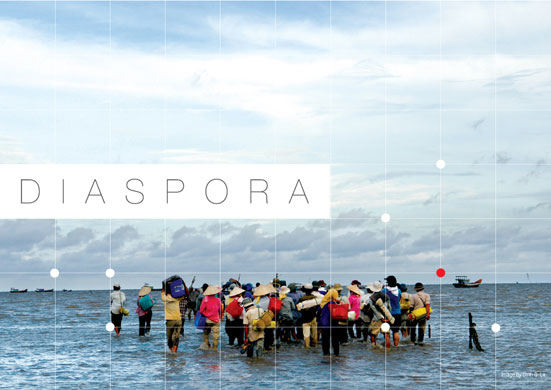 by
TheatreWorks / Ong Keng Sen
18 – 21 September 2006
Esplanade Concert Hall
7.30pm
Invitations to the the event can be obtained from TheatreWorks by calling 67377213 or emailing tworks@singnet.com.sg
Conceived, Writen and Directed by Ong Keng Sen
Video Installation by Choy Ka Fai
Electronic Composition by Toru Yamanaka
In collaboration with
Ariani Darmawan
Zai Kuning
Dinh Le
Navin Rawanchaikul
Tintin Wulia
In performance with
Koh Boon Pin, Janice Koh, Lim Kay Tong, Nora Samosir
Rindu Malam (Gambang Kromong Orchestra)
&
The Singapore Chinese Orchestra
conducted by
Maestro Tsung Yeh
Associate Video Editor: Matthew Slaats
Video Design: Daniel Hartnett, Set Design: Gordana Svilar,
Light Design: Scott Zelinski, Sound Design: Micha Melani
| | |
| --- | --- |
| Listen to a clip of Toru Yamanaka's music | Listen to a sample of Gambang Kromong's music |
Click here to watch a clip of Dinh Q. Le's video
Click here to watch a clip of Choy Kafai's video

A sweeping, panoramic docu-performance based on the Chinese saying "To seek a better life by crossing the Four Seas", Diaspora explores the diasporic phenomenon of the human spirit in time and space, celebrating humanity and human tenacity.

Through stories of vietnamese american, indonesian chinese, africans in europe, indians in south east asia, orang laut (or sea nomads), Ong Keng Sen evokes thoughts on home; memory; identity; migration through war, through choice. With a film team and artists, he visited Ho Chi Minh City, Los Angeles, New York City, Bali, Jakarta, Bandung, the Riau Islands, Paris, Lagos, Amsterdam, Mumbai, Chiang Mai, Tokyo in search of true stories, myths, fantasies.
Journeys became the source of inspiration in this collaboration between Ong and visual artists Choy Ka Fai, Ariani Darmawan, Zai Kuning, Dinh Le, Navin Rawanchaikul, Tintin Wulia. This epic image and sound panorama is underscored by a timeline of Chinese music spanning 2000 years, ranging from mountain songs to contemporary compositions, performed by the Singapore Chinese Orchestra, led by Maestro Tsung Yeh. Japanese composer Toru Yamanaka, gels these fragments of Chinese music together into an ambient environment resonant with nostalgia and future visions. At the music core, evoking the early days when Chinese settlers resorted to Indonesian music instruments to soothe their pangs for home, is the guest performance of a delicate hybrid gambang kromong orchestra from Jakarta with 80-year-old singer, Chim Masnah.
Diaspora is a brand-new work presented by Singapore's internationally renowned TheatreWorks, conceived and directed by Ong Keng Sen, showcasing the best and brightest from Asia and beyond.
A celebration of humanity and human tenacity.
"Travelling the seas, we fall asleep and dream; in these dreams we experience transience, reclamation, transformation. Often we do not have a choice as to where we are born but where do we want our remains to be returned to?"

Proudly brought to you by


Commissioned by