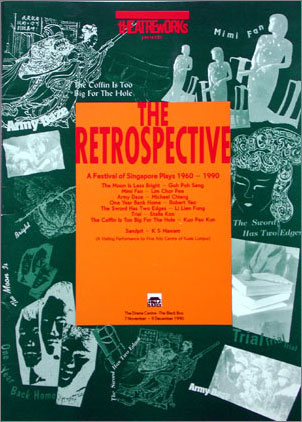 Presents
The Retrospective
A Festival of Singapore Plays 1960 - 1990

A festival of Singapore plays over from the year 1960 to 1990, Retrospective is a festival in recognition of the playwright's role of how they fit into the overall dramatic fabric.
The seven plays chosen for the festival trace the developing consciousness of Singaporeans. The reinterpretation of these seven plays by their respective directors, in their search for contemporary themes, is of especial interest.
The festival, also represents the beginning of TheatreWorks' overall focus on the playwright in the 90s. It heralds the beginning of the Writer's Laboratory in 1991. Housed in the Black Box, this project nurtured playwrights and provided theatre with a much-needed sanctuary to grow without the fear or the stigma of failure.