Watch the Video Clip
[Contact us for full version]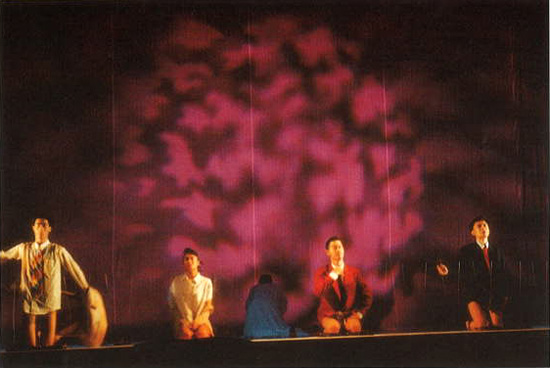 Presents
Descendants of the Eunuch Admiral
Descendants of the Eunuch Admiral is inspired by the stories of the legendary eunuch of China, Admiral Zhenghe.
Written by the late Kuo Pao Kun, and directed by Ong Keng Sen, Descendants weaves a powerful tale of castration and politics as it tells of ancient Chinese court practices and the legendary eunuch, Admiral Cheng Ho, who was responsible for China's most extensive maritime expeditions in the 15th century. Parallels are drawn between the power struggles of court eunuchs and modern-day office workers using the metaphor of castration to show how much they have sacrificed in order to climb up the corporate ladder.
A multi-disciplinary performance, Descendants had the actors perform against a backdrop of computer projections and an eclectic soundtrack, "creating a cohesive assault on the sense that was spell-binding." (Koh, the Straits Times, 1995) "The figures on stage revolve as if driven by pure inner force. Six, seven, eight minutes long. A woman narrates with great exuberance. At the end the faces brighten, glowing and radiant. A festival of intoxicating spiritual beauty." (Albers, Hamburger Abendblatt, 1998) "Pure in his abstraction, Ong Keng Sen chooses sumptuous and flamboyant means of expression: wonderful fabrics are pulled out, sublime lighting effects are produced, the highly refined choreography of the bodies seem to be like a painting" (Mangold, Feuilleton, 1998).
Playwright
Kuo Pao Kun
Director
Ong Keng Sen
Set/Lighting
Kuo Jian Hong
Video
Casey Lim
Hair
Ashley Lim
Make-up
Joseph Ng
Producer
Tay Tong
Performers
Janice Koh
Ivan Heng
Casey Lim
Tang Fu Kuen
Jeremiah Choy
3 – 5 June 1995
The Victoria Theatre
Singapore
1996 Production
(only main changes indicated)
Performers
Noorlinah Mohamed
Tan Kheng Hua
Casey Lim
Tang Fu Kuen
Jeremiah Choy
4 – 13 October 1996
The Victoria Theatre
Singapore
2 – 3 September 1996
As-salam Theatre
Cairo, Egypt
1998 Production
(only main changes indicated)
Performers
Janice Koh
Sharon Lim
Low Kee Hong
Tang Fu Kuen
Jeremiah Choy
European Tour
21 – 22 August 1998
Hamburger Kammerspiele
Hamburg, Germany
28 – 29 August 1998
House of World Cultures
Berlin, Germany